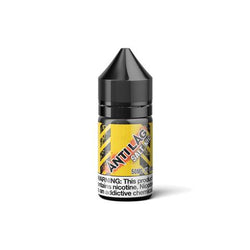 Boosted
Antilag - Salt E-Liquid - Boosted
Strawberry, Watermelon, Blueberry with whipped cream.
Available Strengths:  25mg & 50mg
PG / VG Ratio:  40% PG / 60% VG
Bottle Size:  30ml
Bottle Type:  Plastic Dripper Bottle with Child-Resistant Cap
TAKE NOTE: this juice contains salt-based nicotine. As such, it is specifically meant to be used in pod-based devices and other low-output atomizers/mods.