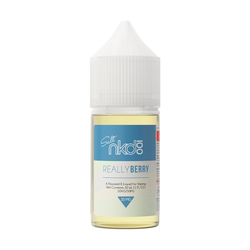 The Steam Co.
Really Berry - Salt E-liquid - Naked
An explosion of sweet, freshly picked Blueberries bursting with flavor combined with the rich complexity of Blackberries, finished off with a Lemon sugar drizzle. Sweet with a subtle hint of tartness, each inhale of Really Berry will keep your taste buds asking for more.
Primary Flavors: Blueberry, Blackberry, Lemon.
Bottle Size: 30 ML
Bottle Type: 30 ML PET Plastic with Childproof Cap