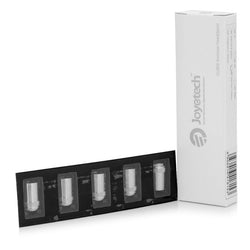 Cubis BF Coils - Joyetech
The Joyetech BF Stainless Steel replacement coils were originally designed for the popular Cubis tank but have since been made a standard among other Joyetech products. Coils attach directly to the top chimney, this design helps virtually eliminate flooding and leaking. The Joyetech BF Stainless steel replacement coils are extremely versatile as they can be used in power mode and temperature control mode as long as your device supports temperature control with stainless steel wire. Get the best of both worlds with these stainless steel replacement coils!
Compatible with:
Joyetech Cubis
Joyetech Ego AIO
Joyetech Egrip 2
Joyetech Cuboid Mini
Recommended Wattage:
15-30 (0.50 Ohm)
15-28 (0.60 Ohm)
You Will Receive:
1x

 

- 5 Pack of BF Stainless steel replacement coils.