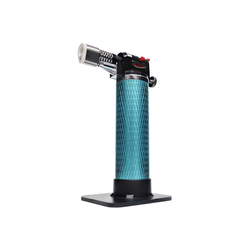 Blazer
Stingray Torch - Blazer
The Blazer Stingray butane torch is an anodized, refillable gas torch that creates a precise flame emitting from a nozzle head, allowing direct heat application to an object.

The Stingray has an anodized outer body finish, which increases thickness and strength to resist wear and corrosion. It features a gas flow adjustment lever, to control its blue flame length. It comes with an attachable, tabletop stand for hands-free work.

The torch houses a piezoelectric ignition system, which is based on a pressurized molecular reaction, and requires no electric connection. Piezoelectric energy occurs when the trigger is activated, releasing a small, spring-loaded internal hammer that strikes a crystal, producing a spark and resulting in gas flame ignition.

With a maximum flame temperature of 2,500 degrees F, the Stingray has a continuous burn time of approximately 1.5 to 2.0 hours, at maximum fuel volume with a 26-gram gas capacity. The torch head has a 90-degree fixed angle, and its flame range is 0.5 to 1.25 inches. It has a safety component that offers manual lock of the ignition, when not in use.

Size: 6.0 (L) x 3.5 (W) x 1.33 (D) inches
Weight: 6.3 oz
Compatible with: Standard butane canister (Not Included)